Cherry blossom returns to Japan
A gift from the wife of the Japanese ambassador inspired Aino Aalto to create her own cherry blossom textile pattern. Now more than 80 years on, it re-enters production.
Aino Aalto's Kirsikankukka textile design was inspired by a gift to the Finnish designer from Madame Ichikawa, wife of the Japanese ambassador. Delighted by the present of silk fabric with a cherry blossom or "Kirsikankukka" motif, around 1933 Aino created her own textile design—a homage to Japanese textile art and design and an evocation of the blooms that in Japanese culture symbolise the return of spring.
To celebrate one hundred years of Finnish-Japanese friendship, Artek reintroduces a cotton textile with Aino's Kirsikankukka pattern. Rediscovered in 2016 as a replica print at an exhibition dedicated to Aino Aalto in Tokyo, small original swatches of the fabric were located at the Alvar Aalto Museum in Jyväskylä, Finland. However, these swatches were too small to show the full repeat of the pattern. Research led from the Aalto archive to the Aalto family, who happened to have Aino Aalto's original drawings for the cherry blossom pattern. Based on this, it was possible to reconstitute the full pattern and bring it back into production.
In deciding where to print the fabric, Artek chose to work with a traditional family-owned printing house in Kyoto, a gesture that can be seen as a playful retranslation of Madame Ichikawa's original gift more than eighty years on.
The printing house is specialised in creating vibrant kimono prints. In Japan, kimonos have been worn for over a thousand years. Traditionally made from natural fabrics such as silk, cotton or hemp, their production is an art form in itself. Decorations are rich with symbolic meaning and can be woven, hand painted, embroidered or printed.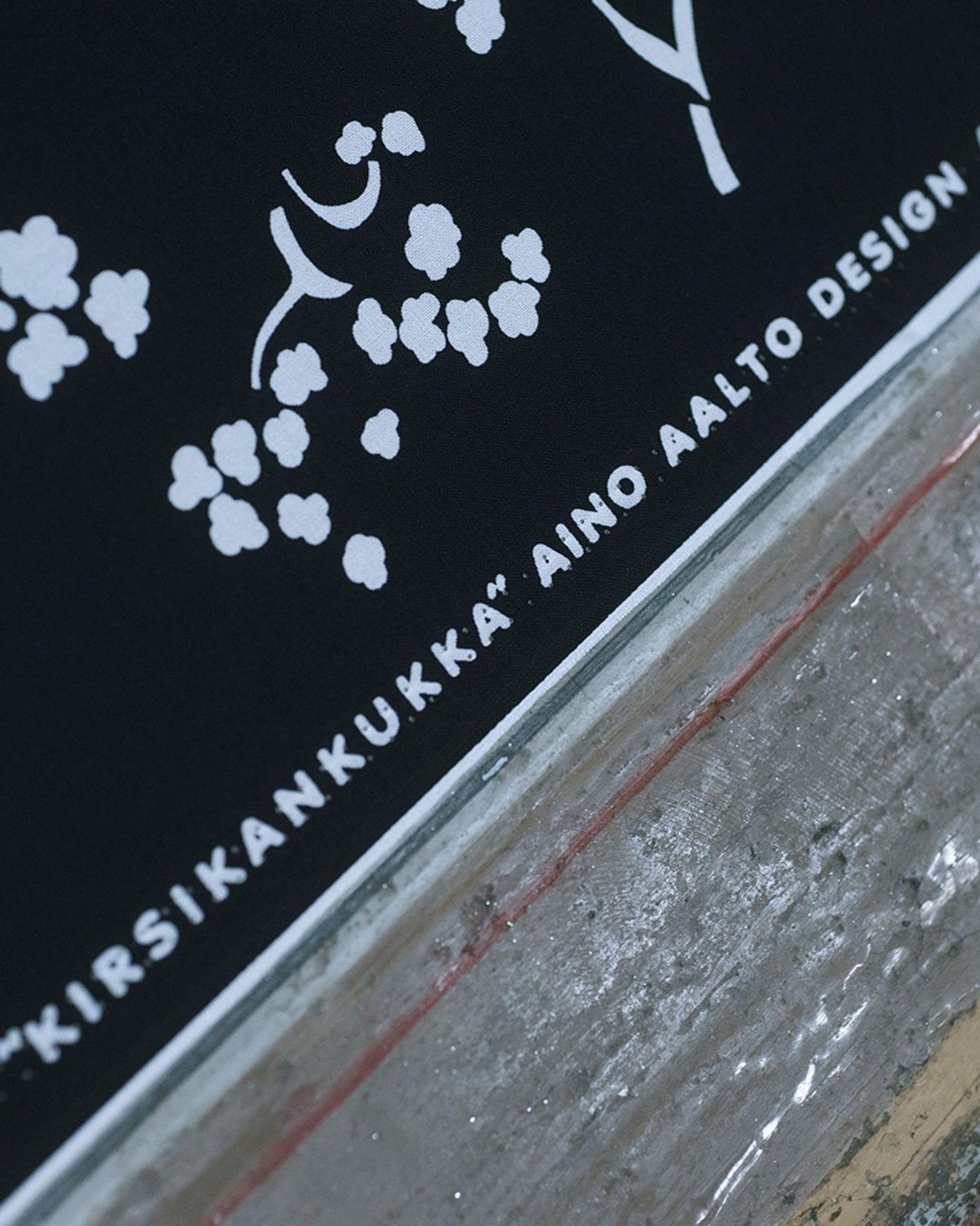 In Kyoto, Aino's Kirsikankukka design is printed onto cotton in a fully manual process. Silk screens are carefully placed by hand to create a seamless, continuous pattern. Known as "Tenasen", this process results in slight irregularities that are prized for their uniqueness and echo the natural variations intrinsic to wood and other organic materials. Featuring a pattern that looks beautifully alive, the Kirsikankukka cotton fabric is part of Artek's FIN/JPN Friendship Collection and available in Finland and Japan only.