The Aaltos at Villa Mairea: A More Human Light
The Aaltos at Villa Mairea: A More Human Light
A text by John Jervis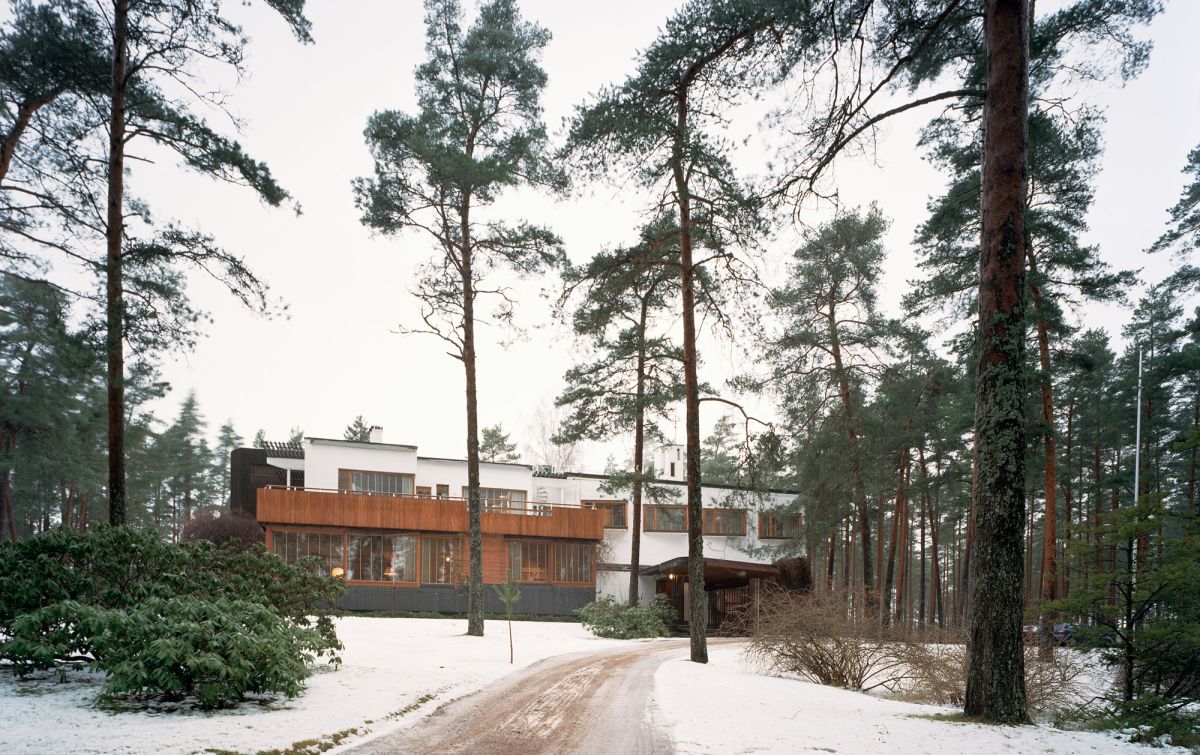 In the 1930s, Alvar and Aino Aalto evolved a radical new approach to architecture, one which emerged fully fledged at an iconic site of pre-war modernism – Villa Mairea in Noormarkku, Western Finland.
Designed for one of Artek's founders, Maire Gullichsen, and her family, Villa Mairea departed from the clean, crisp aesthetic so strongly associated with the modernist house. Here, Alvar Aalto introduced organic forms and natural materials, drawing on traditional Finnish and Japanese design.
In the 1920s, modernist architects harnessed lighting as a practical means to divide small open-plan flats into dining, living and work zones. At Villa Mairea, its role was very different – shadow mattered as much as light, and atmosphere as much as utility. The inventive shapes and varied illumination of the Aaltos' fittings – compelling sculptural objects in their own right – moved away from the geometric forms and even light of their Bauhaus equivalents.
In its interior, and its lighting, Villa Mairea looked forward to the 1950s and '60s, offering intimacy, homeliness and ease. In place of the rigid modernism that still prevailed at the time, the Aalto´s aspired to "a more human built environment", an ideal they were already achieving in their furniture designs.
The Aaltos at Villa Mairea: A More Human Light
Floor and table lamps ensure cosy seating areas, for instance by the stone hearth of the white fireplace. In the Japanese-inspired music room, a rice-paper shade floats over the low table, providing a soft light ideal for relaxing and listening.

Aino Aalto's AMA pendant hovers above the library table; floor lights assist reading on sofas and easy chairs; and directional pendants illuminate bookcases, while also providing ambient light through their perforated shades.

The long pendant in the dining room stretches the length of the table, creating a warm social setting – the light was originally designed by Aino Aalto for the Gullichsens' Helsinki apartment.

Suspended at various heights from the beech ceiling of the main living space, Alvar Aalto's lustrous "Golden Bell" shades beckon visitors in from the entrance hall, illuminate the stairs, and lead through to the dining room.
In transferring this strategy to lighting, the Aaltos proved that a painterly collage of electric lamps could enrich domestic spaces, making them both liveable and welcoming. Through an embrace of the extraordinary diversity of light found in nature, an architecture "suggestive of natural organic life" could be realised – in short, a more human architecture, and a more human light.