Maharam Stool 60 edition
Artek and Maharam come together to introduce the Maharam Edition Artek Stool 60.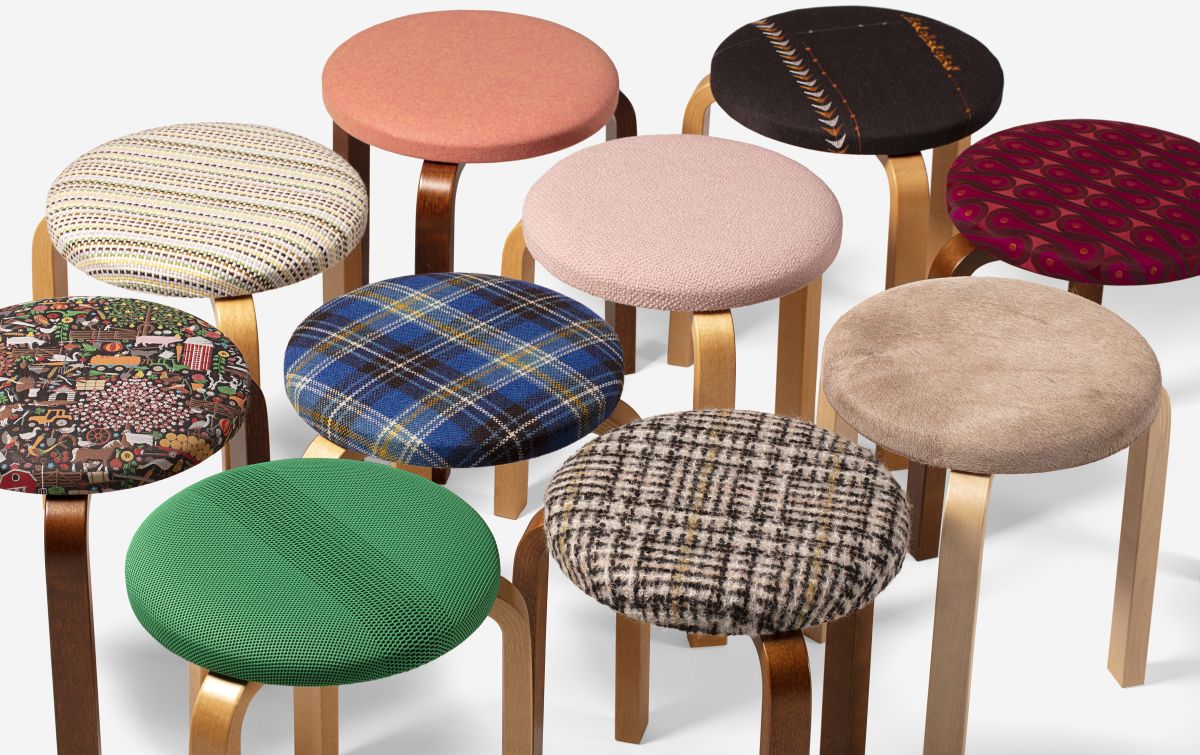 Maharam's range of color, pattern, texture, and natural materials come to life on Aalto's three-legged stool. As complementary as they are unique in their respective fields, Artek and Maharam are united in their dedication to tradition and innovation, both working across creative disciplines.

Emmanuel Olunkwa, furniture designer and the editor of PIN-UP magazine, wrote an essay to celebrate this creative union.
I have always wanted to travel, to see the world, to spend time away from the people and places that I'm used to keeping me whole—my points of comfort and refuge. I spent the last seven years in New York and Los Angeles, stationary in each city because of college then graduate school, and dreaming of an outside world in between. Whenever I talked to friends about their travels and they immediately settled into the food or the weather, I would stumble over their words, unable to imagine what my interests would be when engaging with an unfamiliar place. Then I spent seven weeks walking around Paris, absorbing the city, its people, its buildings, and its furniture. There's one thing that followed me from New York to Paris, to new friends' apartments and their intimate dinners, to restaurants with guests spilling out onto the street, to galleries and museum reading rooms peppered with people who quieted as events began on stage: Alvar Aalto's Stool 60 for Artek.

I often sit around the places I find myself, observing people and taking note of what they like, analyzing the furniture and its functionality. I have learned that people's needs are simpler than I thought: They want staples that are affordable—objects they can claim as their own even though everyone else has them. I haven't stopped thinking about Aalto and the Stool 60 because I want to make something with the same presence and "placeness." I want to make an object that possesses the same familiarity and warmth as a friend or companion, but is also adaptable and dynamic, able to serve a person's needs by transforming into whatever useful object is necessary to meet the moment. You can't see function or utility, but you can experience it.

I want to make objects that people can purchase and not feel as though they need my guidance or permission on how these should be staged, objects over which people can feel ownership and use to dress their apartment, vacation house, or gift to a friend. As a designer moving through the world, I've realized that I encounter design extremes: functional objects that lack a design sensibility or, conversely, ornamental objects that are decorative but aren't sustainable. I came into practice as a designer by way of being a process-based writer and thinker. Writing requires me to think structurally about the narratives behind design objects independent of their function—which also serves as a filter to question the structure of the object. In many ways, design is the process of telling a timeless story; it requires the same functional mechanics and narrative sensibility.

As someone with a journaling practice, I don't often write about what I'm thinking. Instead, I usually note questions I want to ask both of myself and others, once I've decided to make room for that thought on the page. After living alone in Paris for a month and change, it felt right to leave the city and venture to another unfamiliar place—Berlin—to keep learning how to interpret new visual and aural languages. I thought I had left Paris, and all my observations and questions about it and its people and their furniture, behind. But, upon arriving at a friend of a friend's apartment in an Álvaro Siza Vieira building, I opened the door and turned on the light to find an object that has accompanied me on this journey since I first left New York: Alvar Aalto's Stool 60.

The Maharam Edition Artek Stool 60 is available exclusively in the United States of America through Design Within Reach and maharam.com.