Decades: An Exhibition by Artek 2nd Cycle to Celebrate 90 Years of Stool 60
Rare pieces from the 1930s until today are on view at Artek 2nd Cycle in Helsinki during the summer.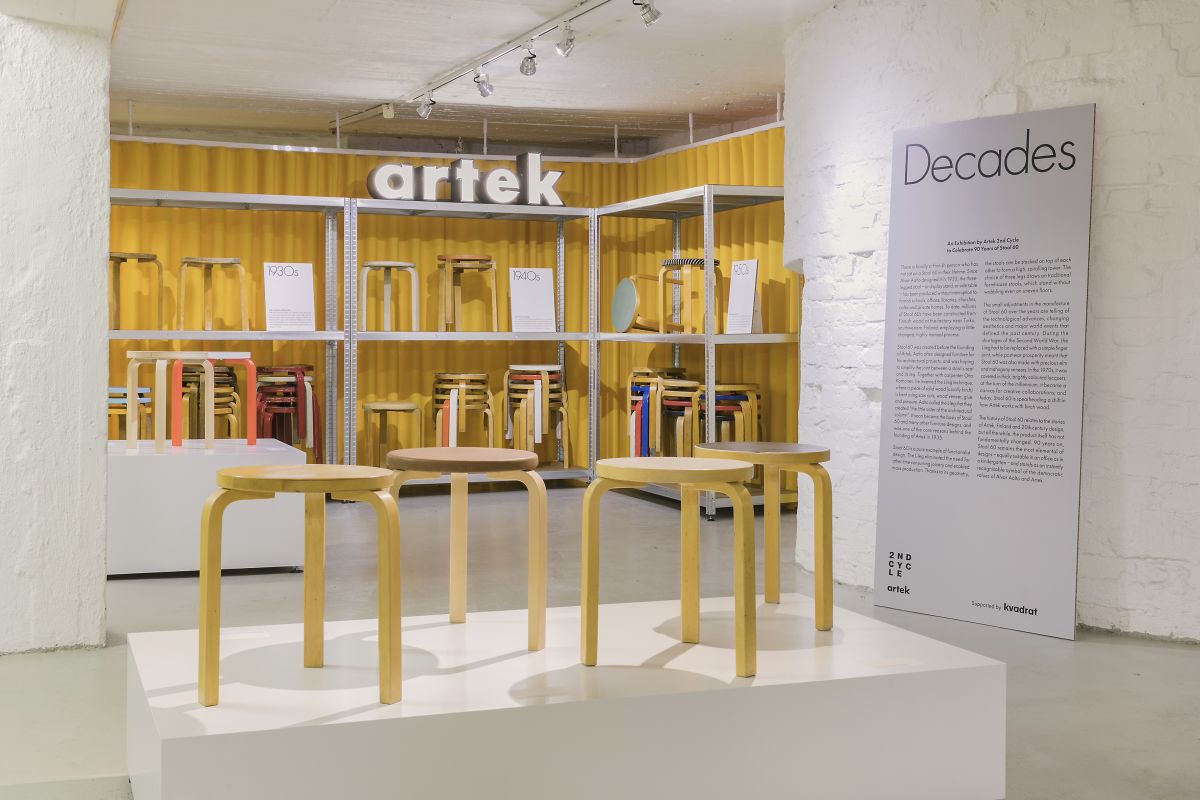 To celebrate Stool 60's 90th anniversary, Artek 2nd Cycle presents the exhibition Decades, which pays tribute to the three-legged stool designed by Alvar Aalto in 1933. The dozens of stools on display represent a cross-section of the design icon throughout the decades.

The majority of the Stool 60s featured in the exhibition will be available for purchase from the Artek 2nd Cycle store in Helsinki and, from summer onwards, through a dedicated online shop. A catalogue designed by TSTO, the Helsinki based design studio that also created the visual identity of Decades, is published on the occasion of the exhibition.

Visitors to Decades, which has been designed by Lauri Johansson, embark on a journey from the 1930s until today. The exhibition sheds light on the endurance of a standardised classic that has remained unchanged in structure and materiality, but also the small adjustments in the manufacture of Stool 60 over the years. These details are telling of the technological advancements, changing aesthetics, and major world events that have defined the past century.
The history of Stool 60 relates to the story of Artek, Finland, and 20th-century design, but all the while, the product itself has not fundamentally changed. 90 years on, Stool 60 remains the most elemental of designs and stands as an instantly recognisable symbol of the democratic values of Alvar Aalto and Artek.
Exhibition details:

Decades: An Exhibition by Artek 2nd Cycle to Celebrate 90 Years of Stool 60

11 May – 15 September 2023

Artek 2nd Cycle
Pieni Roobertinkatu 4-6
00130 Helsinki
Finland

Opening Hours: 11:00 – 18:00 (Thu – Fri)*
Or by appointment.

Extended opening hours during Helsinki Design Week 8-17 September 2023.

Mon 11.9. 12:00–16:00
Tue 12.9. 12:00–16:00
Wed 13.9. 12:00–16:00
Thu 14.9. 11:00–18:00
Fri 15.9. 11:00–18:00