A Collector of Colours and Shapes - Maria Veitola
Maria Veitola is a journalist and (TV and radio) presenter with a home very like herself – full of colour and experimental shapes. The VitraHaus Collector interior is a perfect match for Maria, so we asked her some questions. VitraHaus x Artek Helsinki, June 8 – September 4, 2021.
The stories behind the objects are at the heart of a VitraHaus Collector interior. Paintings, sculptures, furniture, illustrated books, souvenirs and collectibles all tell their own story. Meticulously curated, the interior, its furniture, objects and surrounding spaces create a fascinating whole that seems evocative of a private art show.
In this design style, pastel hues contrast with individual splashes of strong colour, while also showing off textile patterns. When we chose a spokesperson for the Collector arrangement, Maria Veitola was the obvious choice.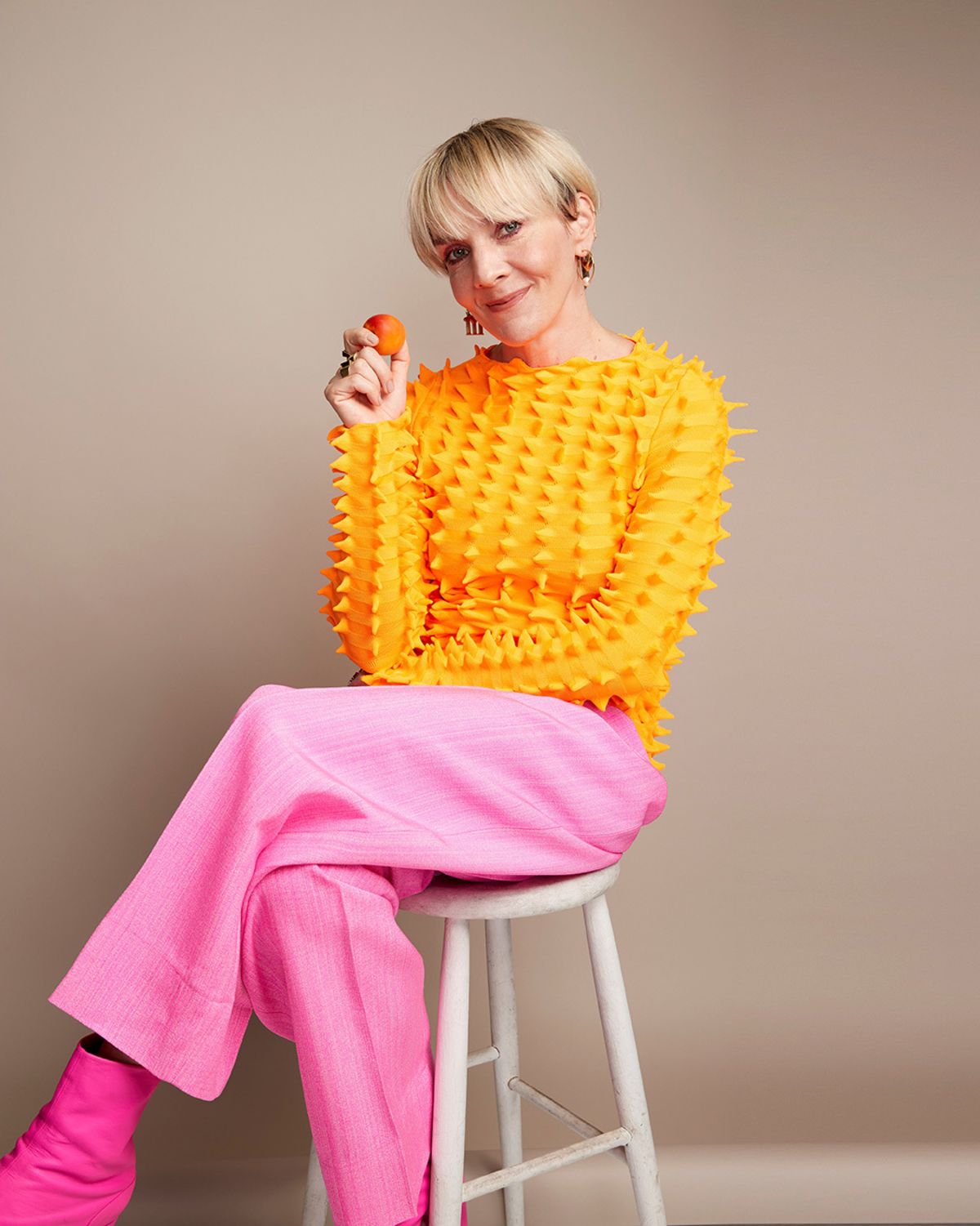 How did you get to know Vitra and how has it inspired you?
I grew up in a beautiful home. My mother was an aesthete, so things always looked fabulous at our house. I enjoyed going to exhibitions, galleries and design shops with my mother, and that has become part of my adult life too. I'm home-centred in the sense that I enjoy being at home and making an effort with how things look and feel in it. I love going to flea markets, art shows and interior design boutiques, as I'm always on the lookout for something new.
I dream of certain design pieces and some of those dreams I've saved up for and made come true. I also think that such furniture is perfect to pass on to the next generation. In my home, for instance, I have a set of 40-year-old Artek bar stools from my childhood home.
In downtown Helsinki, my favourite places for browsing and inspiration are the Artek Helsinki store, which also shows the Vitra Collection, and the Artek 2nd Cycle store. I love to wonder, to touch beautiful things, to dream, and in both of those places one can do that.
What is your interior design philosophy?
My style in interior design is the same as with my clothes. I love colour and I love fun shapes. I want to live among objects that give me joy. My home says a lot about me as a person. I come from Eastern Finland, which perhaps is why we have shingle baskets and gnarled wood furniture. I also like to buy art, especially paintings, so I have a lot of those. If only I had more walls, I'd probably have even more. Then there is my love of Italy, which shines through in some of my furniture and the fact that there is a lot of ceramics and stone. Also, on every trip I take, I buy something: a throw, a bowl, a basket or two, those sorts of home accessories.
What connections do you see between your home and the VitraHaus Collector arrangement?
Oh, there are so many! The colours and the shapes. Also, for years, I have dreamed about Poltronova's Ultrafragola floor mirror, and finally this spring I had enough money for it, so I bought one. It is on its way to us from Italy at the moment. I love eggs, the egg shape and the whole concept, so now I've begun dreaming about the big egg that is part of the Collector arrangement. I don't know if it does anything, but it is gorgeous!

// Maria
@mariaveitola


VitraHaus x Artek Helsinki
8.6.–4.9.2021
Keskuskatu 1 B
00100 Helsinki
Mon–Sat 10–18
Artek Helsinki
Keskuskatu 1 B
00100 Helsinki, Finland
tel. +358 10 617 3480
artekhelsinki@artek.fi
Mon-Sat 10:00 – 18:00