New colour palette for webbing
The webbing for Alvar Aalto chairs is now available in six new colours.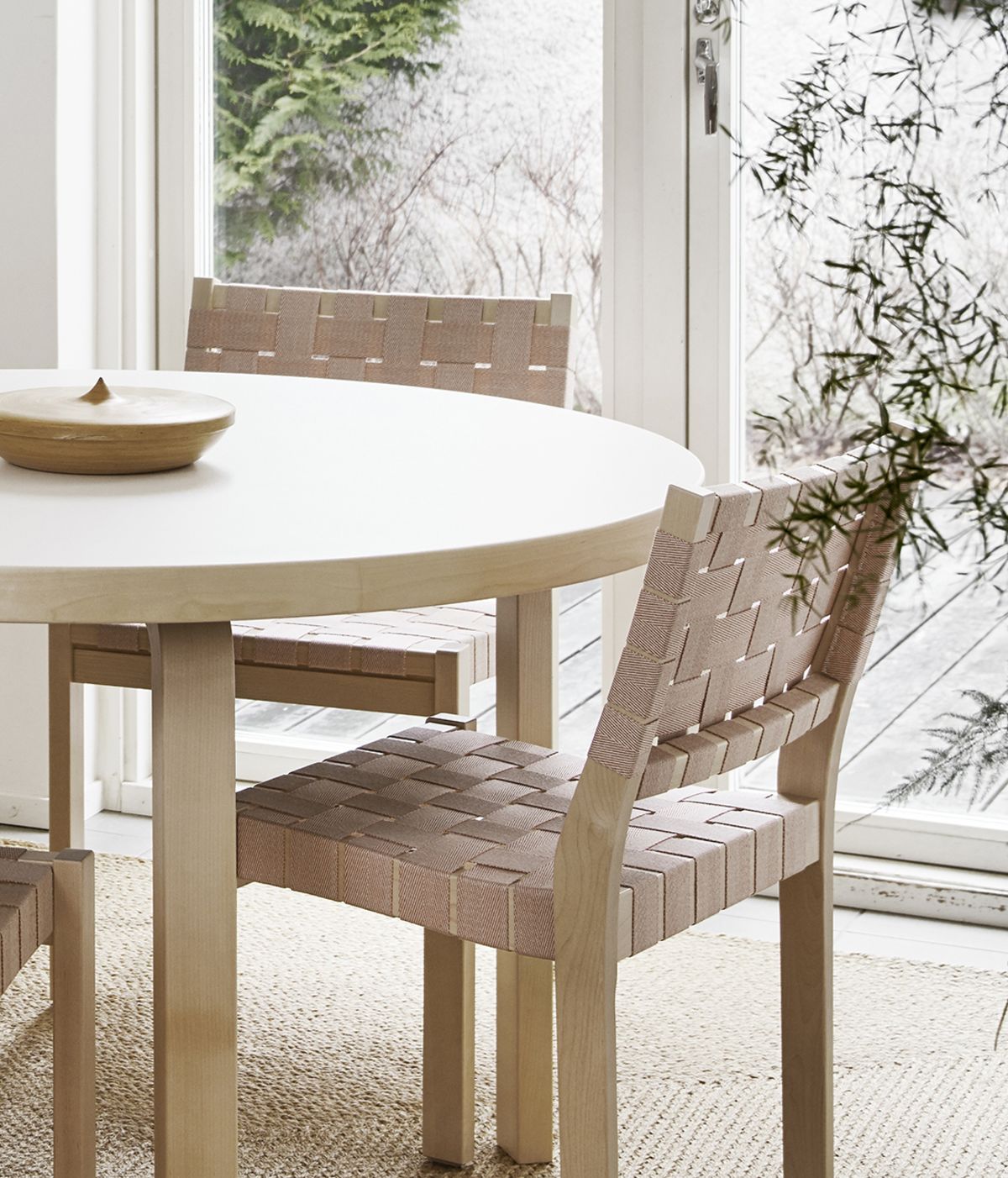 Artek's webbing chairs are classics that have belonged to our homes for decades. Now both new and old webbing chairs can have an updated look with a new line of linen webbing. In cooperation with colour and textile expert Hella Jongerius, Artek has produced a palette of subtle new duo-tone colours while optimising the material properties of classic linen webbing. Jongerius has combined contrasting warp and weft yarns to weave the linen belts, which creates an almost three-dimensional effect. The duo-toned linen of the webbing brings the colour alive in the varying tones of daylight. The new colour range features combinations of black and blue, brown and black, red and white, natural and black, natural and white. And, of course, we still offer the classic all-black webbing.
In Artek's current range, the webbing is used on Chair 611, Armchair 406 and Lounge Chair 43. The Chair 611, from 1929, is one of Alvar Aalto's first modern chairs. At first, the chair was made only in whole wood, the version with a webbed seat and backrest was created decades later. It is thanks to this breathing, natural, and easily renewed upholstery that the 611 has become so popular in homes and public spaces alike.
From time to time the linen webbing does need to be replaced. New webbing gives your furniture classic a new fresh look and ensures that the chairs will last longer.
You are welcome to look at the new webbing colours in our shop on Keskuskatu! You can book your re-webbing in person at the shop, by phone or by e-mail.
Artek Helsinki
Keskuskatu 1 B
00100 Helsinki
Phone 010 617 3480
artekhelsinki@artek.fi
Monday–Friday, 10 am – 7 pm
Saturday, 10 am – 6 pm
Artek Helsinki
Keskuskatu 1 B
00100 Helsinki, Finland
tel. +358 10 617 3480
artekhelsinki@artek.fi
Mon-Sat 10:00 – 18:00